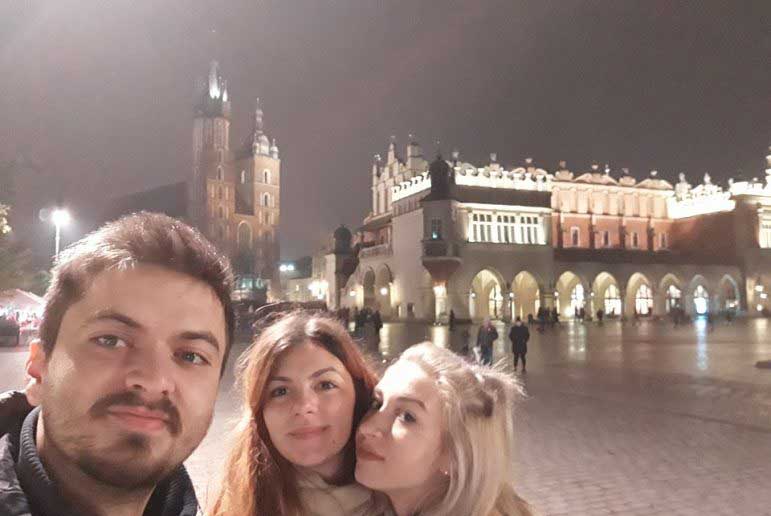 There is a few reasons why you should choose Torun. The university is one of the best in Poland, it has a beautiful city center and many interesting places to visit and its relatively central location inside Poland makes it easy to visit other cities inside Poland and around it.
Mainly Torun…

This is one of the first pictures that appear when you google Torun. It is really beautiful but it's only the beginning. When I arrived in Torun it was night and I had to pass the bridge to get to the city center. The view was breath-taking and it is still stuck in my mind. Once you arrive there you will see a beautiful city center filled with 19th and 20th century buildings. A beautiful mix of German architecture and with a Polish touch.
In the first photo it is in my opinion the most interesting building in the old town. I simply love how it is shaped after the split of the main road, while in the second one it is a picture in the main square (If you decide to come here something tells me that you will spend a lot of time here, but you have to come here to see why). But the beautiful things are not ending here. There are some nice hidden gems outside the city center that you should give them a try. From part of the city south of the Vistula river to Adama Mickiewicza street is up to you to go around the city and see what you like. For me, as a guy that loves 19th and 20th century architecture these are the things that I love about Torun.
And now to the rest of Poland
Once you are here, of course, you will not stay just in Torun, you will make friends and you will travel all around the country and even further beyond. And here is where the central location of the city helps you a lot. I have friends that went in Poland as well with Erasmus but they were in other cities such as Krakow and Opole. Both of them are great but it was quite a challenge to go from the south of the country to Gdansk for instance. You can get in around 3 hours from Torun to Gdansk or Malbork, another 3 hours to Warsaw or Poznan or if you pick the right train you can get to Krakow in 6 hours. Or to Wroclaw in 4 hours. These are all beautiful places that you should give them a try during your stay in Poland and because of the advantageous position of Torun is much easier to visit them than from another town in Poland. Photos from Warsaw, Gdansk & Krakow
As you can see, Poland has a lot to offer but because this is the Erasmus experience we have to be more international. So why not make a short trip to a country nearby? Berlin is close, Prague as well and if you're adventurous enough why not make a trip to Stockholm, Vilnius, Budapest, Vienna or even in Russia? There is a small exclave of Russian Federation north of Poland where you can visit it (if you have the proper documents depending on which country you come from).
In conclusion, there are many articles here that tell about Torun, the life here and the possibilities, but I think this thing should be taken into consideration as well because if you were brave enough to come from your country here that means you are a person that likes to travel or to experience new things, so to stay only in Torun is something that will be highly improbable. Torun has this luck of being close to so many interesting and beautiful things that you should visit during your stay here.