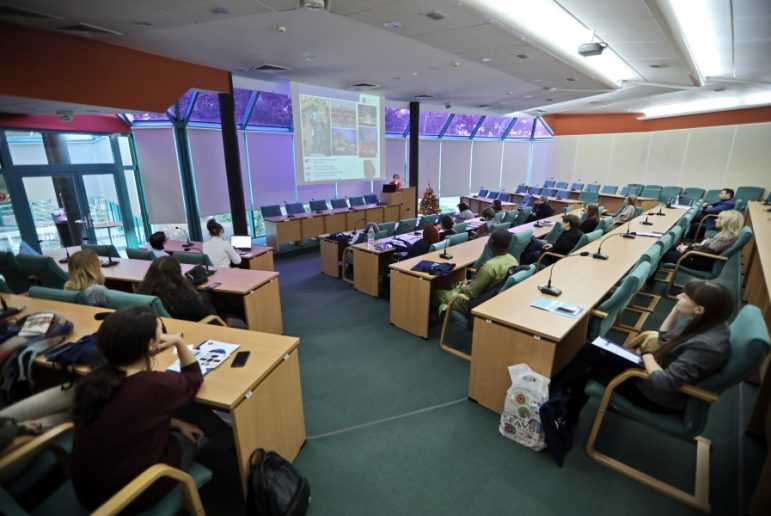 Communication in a Multicultural Environment is the title of an international meeting of university employees, which began on December 12th at the Faculty of Economic Sciences and Management of the Nicolaus Copernicus University.
The International Staff Week is an event prepared jointly by the Department of International Cooperation and FESM within the framework of the project "Internationalisation action at University – NCU4U", financed by the National Agency for Academic Exchange programme "Welcome to Poland". The formula of the meeting provides for a five-day training plan for non-academic employees from all over the world.
More than a dozen people from Germany, Austria, Bulgaria, Tunisia, Ukraine and Russia came to the Nicolaus Copernicus University. During the training, the participants will develop their skills related to effective communication in an international environment. For university employees, who in their everyday work face challenges related to cooperation in different cultural circles, this is an opportunity both to share experiences and improve interpersonal skills. It is also an opportunity to deepen existing relations and establish new contacts.
During the International Staff Week, participants will learn how to deal with cultural differences and effectively use body language, prepare public speeches, and how to skillfully solve misunderstandings resulting from cultural differences. During the workshops the participants will also work in groups and solve tasks together.
Additionally, guests will see what Toruń looks like just before Christmas. They will get acquainted with the history of the city during guided tours. They will also make Christmas gingerbread and watch a screening in Toruń's Planetarium.
<iframe src="https://www.youtube.com/embed/zwwRm_6rPgs?rel=0