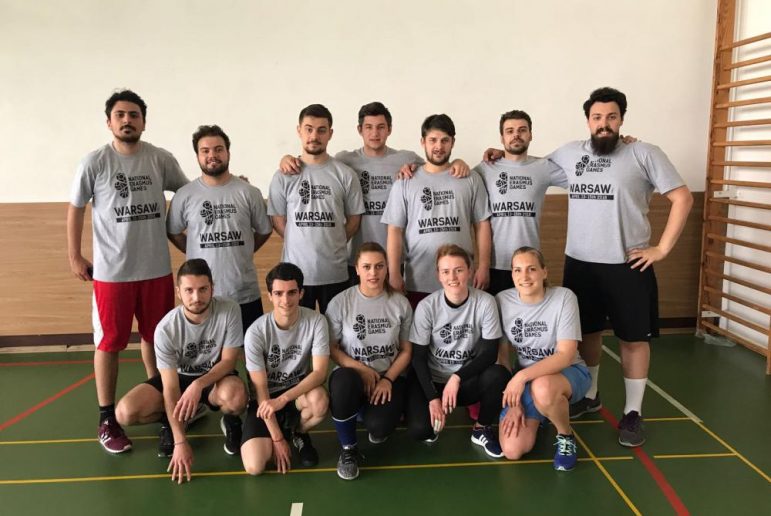 I found out by a Facebook post in the ending of February about the possibility of enrolling as a 12 person team into a local competition between the Erasmus students (Organized by ESN Torun). 3 disciplines of sport: basketball, futsal and volleyball, who wins goes to play against Bydgoszcz into the Regional knock-out and further to the final national stage in Warsaw. No time to spend, we organized a team, a multicultural one I would say, we checked the elimination criteria which was the team to contain at least 2 girls and there we were, first official sport competition between Erasmus.
International team
Our team made it to the regional Knock-out, where we won a really intense match with 2-1 overall sports and Warsaw was just a matter of time. Just to find out key components of the team couldn't make it in that time. So we re-builded the team, borrowed players from our local "rivals" and on 13 April we arrived in Warsaw at Hotel Atos.
11 teams, 3 groups, more then 130 Erasmus from all over the world, representing cities from across all Poland. Friday evening it was the draw and we found ourselves in a 3 team group against Gdansk and Lodz.
Our team I assume to say it was the most diverse from the whole competition. Romanians, Russians, Portuguese, Spanish, French, Ukrainians, Turkish and even Norwegians, due to our beloved double citizenship captain Miriam. 3 girls, 9 boys, 4 rooms.
Saturday it was the day, starting from 10:30. Basketball, me a complete stranger in-play. But with the turkish boys Oguz and Hilmi on fire. Note. In game, a girl had to be non stop on the pitch. Great time-outs and great leadership shown by Oguz took us to a safe Victory against the Gdansk team. Second match. No need to share the adrenaline and tension in writing. We lost after an 11-5 lead. Head up.
Lunch and we went to the volleyball match. There, they were simply better, more experienced and more confident. It's true, the heart award was going towards us, we had great devotions and great plays especially from our sport specialist Ramona. The fair-play rule of rotations applied to our team, and in the end volleyball was a great experience for all, even if it was time to shake the hands of our opponents and congratulate them.
And last, probably the most crazy sport world-wide, the 5 a side football, here played indoor, as futsal. It was obvious there would be 2 friendly matches, ESN Lodz team was already going further. 3-3 against Gdansk, 2-3 against Lodz. With our girls Miriam and Mihaela in great shape, and us the other boys rotating and playing a slightly Tiki-taka with defensive influences of Catenaccio (I told you I will bore you), we pulled out 2 at least decent results against 2 teams that they further admitted we were better.
Quick view on Warsaw
The evening was free, so the final day, finishing second in the qualifying group. We relaxed at a Legia Warsaw match in the Legia stadium and later we joined the agenda event in XoXo club (which I don't recommend due to a 15 zloty price for a beer). There we met the others, we discussed, we gave advices for the semi-final and I would even say that we made new friends. Sunday morning we walked around the beautiful historical center of Warsaw and turned back to the Sports arena where we would support our "ex-rivals" Lodz. They lost the final against Poznan, but left with head up. So like all the teams. The competition was about enjoying the diversity through sport and gathering people to experience real time fair-play, not to just dream the trophy and the European stage in Nis, Serbia.
As a conclusion I will take occasion to congratulate the organizations, doing a great job (The food and accomodation were great), ESN Torun for offering us this opportunity, and nevertheless to mention my team-mates, which hopefully will remember this experience over the years:
—       Ivan Bodnarouk — France/Ukraine
—       Ramona Chereches — Romania
—       Hilmi Ogucu — Turkey
—       Oguz Kose — Turkey
—       Mihaela Suleriu — Romania
—       Gregoire Briand — France
—       Costi Lefter — Romania
—       Javier Prades — Spain
—       Diogo Pereira — Portugal
—       Vladislav Zholnerchuk — Russia
—       Miriam Schikora — France/Norway- Captain